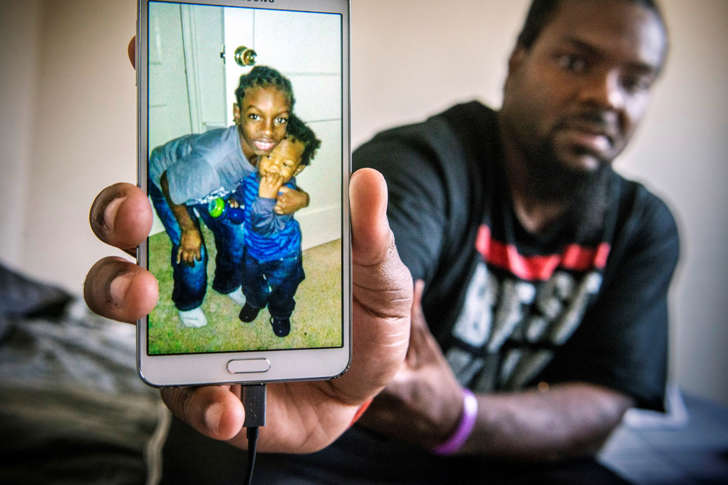 She wiped away tears Friday at the funeral for her 3-year-old son, who was found dead on a park swing in Southern Maryland after she'd been pushing him for hours, possibly overnight.
Ji'Aire Lee's small body was laid out in a white casket at First Baptist Church of Highland Park in Landover, surrounded by sprays of white roses. His 24-year-old mother, Romechia Simms, who'd been hospitalized for four days after his death, was among those singing "This Little Light of Mine." His father, James "Donnell" Lee, 29, who sought custody of the preschooler in March because he was concerned about Simms's mental stability, sat in the same pew, just a few mourners away, at the front of the church.
Later, as pallbearers carried the casket to the burial site at Resurrection Cemetery in Clinton, Md., the two grieving parents held hands.
In the funeral program, Simms included a letter she'd written to Ji'Aire: "Son, the joy you brought to my life is unexplainable. . . . I miss you so much Ji'Aire, way more than I could possibly express through words. I am slowly accepting your passing. I want you to know that I have always been extremely proud of you, and I love you until the end of time. Ji'Aire Donnell Lee you are amazing. Love always, Mommy."
Charles County sheriff's deputies found Ji'Aire and Simms on May 22 in Wills Memorial Park in La Plata after a neighbor who'd seen them the night before called police. The cause of death has not been determined, but Ji'Aire's body showed no signs of trauma, authorities said. Detectives are still investigating what happened, and no charges have been filed.
[She'd recovered from a breakdown. Then her son was found dead on a swing ]
On Friday, as gospel music spilled from speakers, photos of Ji'Aire as a newborn in blue tucked in his mother's arms at a hospital flashed on video screens. More photos followed of him as a sleeping newborn, a crawling baby, a toddler sucking his thumb, swinging on a playground and in a blue shirt raising four fingers and grinning.
Ji'Aire's obituary described him as a cheerful boy who loved playing outside and watching his cousins play football: "He loved bossing his cousin Jhai around and taking over his PS4. He loved watching movies with his parents such as Scooby Doo, Austin Powers (his favorite lines to quote are 'Yeah Baby' and 'Ohh Behave.' He loved singing and dancing like his mother and father. You could always catch him grooving to a song making up his own dance showing the world his style."
After the service, Ji'Aire's parents walked out of the church behind the casket. Simms, whose hair was piled in a high bun, wore a black dress and black sandals. Lee wore a white tuxedo jacket over black pants. Outside, in the church's vestibule, mourners hugged them. A white hearse led the procession to the cemetery.
Diane Richardson, a spokeswoman for the Charles County Sheriff's Office, said this week that investigators are still awaiting toxicology reports.
"We are focused on finding out what happened to the child," Richardson said. "Our detectives are very compassionate, yet very focused. We are working hard to get answers."
Simms, who suffers from depression and bipolar disorder, had what her mother, Vontasha Simms, called "some kind of a psychotic episode" in the park. She was taken to a hospital by sheriff's deputies for treatment and discharged four days later.
Romechia, who had suffered a mental breakdown in February, doesn't remember what happened in the park that night, family members said.
Vontasha Simms, 47, said she believes Romechia would never intentionally hurt her son. But he had a cough, and the temperature had fallen to about 51 degrees overnight, according to National Weather Service data.
Ji'Aire's death has fueled tensions between the families of his mother and his father.
Lee, 29, who lives in Southwest Washington, had filed for full custody of his son in March, saying in a petition in D.C. Superior Court that he was concerned about Simms's mental health. She had been behaving erratically, he told the court, including jumping from a moving taxi.
[Is the 3-year-old found dead on a park swing a case of dad discrimination?]
"I do not believe she can safely care for our son," Lee wrote.
In her response, Simms told the court in April that she had recovered from her breakdown and was the better, more capable parent. "I have done everything in my power since moving from D.C. to ensure that my son has the best life that he can have," she wrote.
At a hearing on May 11 — just 11 days before Ji'Aire's death — the parents agreed to share custody, with Lee taking him on the weekends and Simms keeping him during the week.
Lee didn't bring up Simms's mental state or reiterate his fears about his son's safety, a transcript of the hearing shows. And D.C. Superior Court Judge Peter A. Krauthamer did not press either parent on Simms's mental state, though he did ask "Is someone unfit here?"
"There's no one unfit," Lee responded.
At the time of Ji'Aire's death, Simms was living with her mother and son in a motel room at the Deluxe Inn in La Plata.
Vontasha Simms said she last saw the boy May 21, the day before he was discovered in the swing. He had awakened that morning feeling better after coming down with a bad chest cold. His mother took him to Burger King for lunch, then took the boy t
o the park a few blocks away to play.
Vontasha Simms watched as her daughter and grandson crossed busy Crain Highway. Romechia held the hand of her son, who was wearing a black jacket and blue shorts.
When they didn't come back to the motel that night, Vontasha Simms grew worried. About 12:30 a.m., she called her daughter's cellphone.
"I said, 'Where are you, Ro?' She said, 'We're fine. We are on our way back.' I said, 'Okay.' But she didn't show up," Vontasha said. "I had no inkling they would still be sitting at the park."
On Friday, Ji'Aire's father expressed his sorrow with a prayer included in the funeral program: "Precious God, I know you gave your precious Son to give us life with You. But I didn't want our son to leave cause he was precious too. We all are special in your eyes and all to you return. We know our son will not come back and for this our hearts still yearn. . . . Our precious son is with you, and there will be a day that we too will leave this earth and you will light our way. His arms will be wide open and the wait will be worthwhile when we see again our precious son, and the splendor of his smile. Love you forever — Dad."